While conventional mountain bikes and their pedal-assisted electric cousins are busy counting grams and keeping it light, performance electric bikes and motorcycles focus on power, speed, and range. These heavier bikes like the Sur Ron and Stealth B52 are a blast to ride, but their heavier hardware and higher outputs require some heavy duty downhill tires to ride in the dirt.
 One of the main complaints we hear about new eBikes is that the tires they get from the factory are sub-par in more ways than one.
 They don't grip well enough, they're too prone to punctures, or they can't go a day without at least one pinch flat.
 Well, we've heard enough complaints (we've got a few of our own) and decided to get scientific about who makes the most heavy duty downhill tire on the market.
 The list that follows are some of the gnarliest carcasses, sidewalls, and casings known to man that are compatible with performance electric bikes.
A Word On Tire Construction:
Here at Motopeds, we find the thicker a tire is, the better suited it is for the kind of daily abuse we subject them to.
In all our testing, we've found old-school wire bead tires are still the thickest out there. No doubt that thickness is built out of necessity, but for heavier bikes that spend time both on and off road being ridden aggressively, a wire bead is still the most dependable construction money can buy.
We've tried folding bead tires as well of course, and even tested the folding versions of the Maxxis and Kenda tires in this article for comparison as you'll read below.
Still, there's a reason eBike riders tend to upgrade to motorcycle tires (and wheels) and not the other way around. Most of the bikes we ride these days are motorcycle/bicycle hybrids. Pedal assisted or not, these bikes are too powerful and heavy for folding beads to be dependable.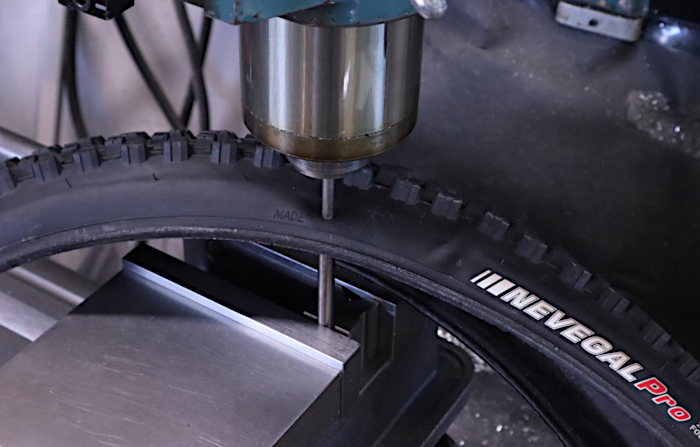 Our Method For Measuring
 We collected both weight and thickness measurements for each of the tires below.
 Weights were taken using the same calibrated scale for each tire.
 Sidewall thickness measurements were taken at the halfway point in the sidewall of each tire.
 The casing thicknesses listed here refer to the thickness of the center or the casing as measured between any knobs or lugs in the tread pattern.
The Most Heavy Duty Downhill Tires For Electric Bikes
Of all the tires we've tested, these are the most heavy duty downhill tires we've found.
We've ridden them on singletrack trails, twisty mountain roads, and everywhere inbetween. Here's what we've found.
Best Overall: Duro RazorBack (24 x 3.0)
| | |
| --- | --- |
| Weight | 1650 Grams |
| Sidewall Thickness | .120 in. (3.05mm) |
| Casing Thickness | .120 in. (3.05mm) |
The Duro Razorback has gotten a little harder to find since its heyday, but there's a reason brands like Stealth Bikes still spec them as OEM equipment.
Pound for pound the Razorback is still the thickest, gnarliest mountainbike knobby out there, and it's the Motopeds go-to for serious offroad use, especially when we're planning on pedaling back home at the end of the day.
We tend to take it a little easier on paved corners though. The Razorback's widely spaced knobs make it great in the dirt, but they tend to squirm at lean on the street and can be a little unpredictable.
Best Dual-Purpose Tire: Kenda Nevegal (26 x 2.7)
| | |
| --- | --- |
| Weight | 1470 Grams |
| Sidewall Thickness | .060 in. (1.52 mm) |
| Casing Thickness | .110 in. (2.80mm) |
The Kenda Nevegal has been around in different iterations for over a decade and (lucky for us) it's still available in a monster 2.7" wire bead variant.
While it isn't quite as thick as the Duro Razorback, the big Nevegal stays in our rotation for its offroad performance and balanced street manners.
Kenda uses aggressive, widely spaced lugs on the Nevegal, but they also link the knobs together at the casing which reduces flex on the pavement. They're still great tires in the dirt, but they give predictable performance on twisty paved roads too. Essentially the perfect all-around fun tire.
If you're entirely dirt-focused the Duro Razorback is still your best bet for dependability and performance, but give the Kenda a look if you like to mix up your riding.
A folding version of the Nevegal is also widely available, which we tested as well. The wire variant is much sturdier, as the folding Nevegal only measures .025 inches at the sidewall and .075 at the casing. It still makes a great tire for traditional pedal bikes and their lighter pedal-assist eBike stablemates, but doesn't cut it for burlier bikes like the Sur Ron.
Maxxis Minion DHF Wire (26 x 2.7)
| | |
| --- | --- |
| Weight | 1320 Grams |
| Sidewall Thickness | .072 in. (1.83mm) |
| Casing Thickness | .085 in. (2.16mm) |
You can't have a list of downhill tires without mentioning at least one Maxxis Minion, and the 26×2.7 wire bead version of the DHF is by far their best heavy duty option.
There's not a lot we can say here that hasn't already been said about the Maxxis Minion. Its reign as the most popular mountain bike tire of all time is fairly uncontested, especially on the downhill scene.
Make no mistake about it, this is still one of the best options you can buy for off road traction and performance.
Unfortunately, it's getting harder and harder to track down the sizes we need for eBikes as the mountainbike world moves further and further from 26 inch wheels.
It's also worth noting that the widely spaced lugs of the Minion give it incredible grip in loose and muddy terrain, but aren't the best fit for the street. Of course street use was never Maxxis' intention, but we like to mix it up a good bit and can't recommend these for the pavement.
And yes, in case you were wondering, we also tested the 26-inch Maxxis Minion in a folding bead variant to gauge the difference here.
Our 26 x 2.8 folding version measured a full 400 grams lighter and was just .040 inches thick at the sidewall. Casing thicknesses were comparable with the folding bead minion measuring .080 inches.
That's way too thin for our comfort level on a 100-pound bike.
Our Favorite Alternative: IRC GP1 Motorcycle Tire (19 x 2.75)
| | |
| --- | --- |
| Weight | 2560 Grams |
| Sidewall Thickness | .165in (4.20mm) |
| Casing Thickness | .190 (4.85mm) |
Swapping out a set of motorcycle tires is a popular mod for eBikes. If you're riding something that puts down enough power to handle the additional rotating mass with ease, it's one of the best upgrades you can throw on your bike.
The IRC GP1 is a time tested favorite for its blend of reliable performance and overall affordability. You may or may not have ever heard of the GP1, but chances are you've owned at least one tire with its "universal dual sport" tread pattern.
The Shinko 244 and Kenda k270, for example, both sport nearly identical tread patterns and compositions, and are both equally popular.
If you're interested in making the switch to a moto-style tire, we've put tons of miles on both the IRC GP1 and Shinko 244 and have to say you can't go wrong with either. They come in a ton of sizes including 19 and 21 inch versions so they should have a size to fit every setup.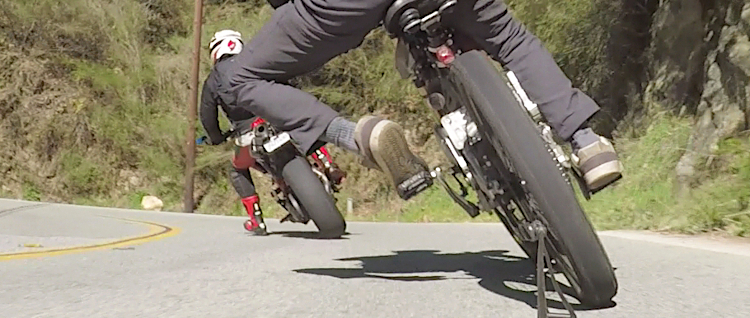 Motoped Survival bike running a IRC GP-1 19×2.75 motorcycle tire in the rear and a Kenda Nevegal 26x 2.7 in the front. This gives a good combination of dirt and street use.
Tire Weights and Thickness
| Tire | Bead | Sidewall Thickness | Top of Casing Thickness | Weight |
| --- | --- | --- | --- | --- |
| | | | | |
| | | | | |
| | | | | |
| | | | | |
| | | | | |
| Kenda Nevegal Pro 26 x 2.5 | | | | |
| Average Mountain bike tire | | | | |
| | | | | |